Climate Controlled Storage
Climate controlled storage protects your belongings from extreme fluctuations in temperature and humidity. The unit's content remain in a consistent environment, regulated throughout the year. Fluctuations in temperature and humidity can cause damage to your belongings. It's not uncommon for people to store irreplaceable items in a climate controlled environment. Our representatives can assist you in determining if one of our climate controlled units is the right choice for you. Our team of experts will assist you in determining if climate controlled storage is best for you. Give us a call
(914) 238-3232
Climate Controlled Units: An Upgrade From A Standard Unit
Mold and Mildew
Mold and mildew thrive in excessive heat and humidity. Climate control provides the ideal conditions for storage because the moderated temperature limits the opportunity for mold and mildew to form. Our people are very experienced in helping you decide if climate controlled storage is necessary.
Climate controlled units have a moderated temperature throughout the year, regardless of the local conditions.
Climate Controlled Units For Wine Bottles
Climate controlled units are ideal for storing bottles of wine.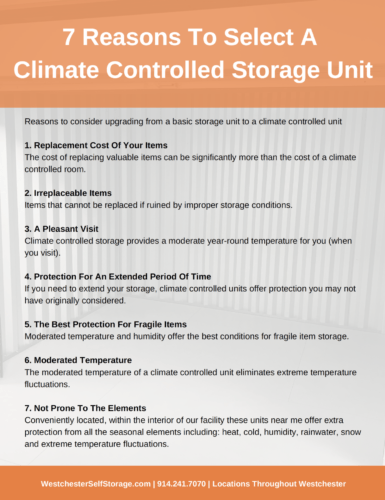 Reasons to select climate controlled units
1. Item Replacement Is Expensive
Items are very expensive to replace.
2. Some Items Are Irreplaceable
Irreplaceable items are best preserved in climate controlled storage units.
3. The Most Comfortable Conditions For You
Climate controlled storage units provide the most comfortable conditions for you when when accessing your unit.
4. Longer Than Intended Storage
People often need to extend the lease term and climate controlled units offer the best extended protection.
5. Delicate Fabrics Need Moderate Temperatures
Moderated temperatures and low humidity are ideal for storage of your delicates.
6. Moderated Temperature
Moderated temperature is ideal for sensitive item storage.
7. Extra Protection From The Elements
Interior units near me provide storage free from the effects of outside conditions.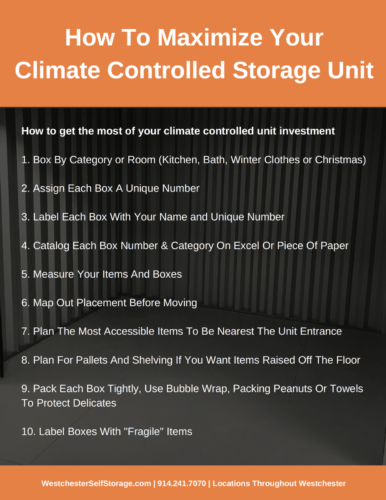 1. Organize Boxes By Room Or Season
2. Uniquely Number Each Box
3. Label Each Box With Your Name
4. Record Boxes On A Sheet Of Paper
5. Measure Everything
6. Plan The Placement Of Everything In Advance
7. Save The Front For The Items You'll Need Access To Most
8. Raise Sensitive And Delicate Items Off The Floor
9. Pack Boxes Tight
10. Clearly Identify "Fragile" Items
Climate And How It Impacts Items In Storage
Humidity
Humidity refers to the amount of water vapor in the air. 
Items swell as humidity increases then shrink as it decreases. Cracking is often the result. 
Mold thrives as humidity increases. 
Certain locations in your house are more prone to higher levels of humidity than others. 
Temperature
Items expand in hot weather and contract when it's cold. This causes cracking. 
Bugs and pests become more prevalent as temperatures increase
.
The Effects Of The Sun
Sunlight causes fading and discoloration of fabric.
Rainwater
It's not just rainwater, but associated dirt and mud that can ruin rugs, blankets and clothing.
The Damaging Effects Of Snow
Snow creates moisture and road salt used to melt the snow is corrosive and damages furniture and clothing.
Fall Clean Up And Leaves
Seasonal Fall clean brings moisture, dirt and unwelcome pests into your home, which can ruin fabrics, clothing, paper and furniture.
Effects Of Storage Near Me Temperature Fluctuations
Cracking, tearing, breakage and warping of wood

Discoloration of Fabrics

Yellowing of Paper

Mold and mildew form

Can cause rust and corrosion

Problem

 for electronics.

Photos degrade

Pests increase
Self storage units near me in Westchester are temperature controlled, cooled in the summer and heated in the winter. This offers protection from extreme fluctuations in temperature that have been known damage all sorts of household items.
The most popular storage units are increasingly becoming Climate Controlled Units.
FIND THE PERFECT UNIT TODAY
Our Team Is Standing By Ready To Assist You